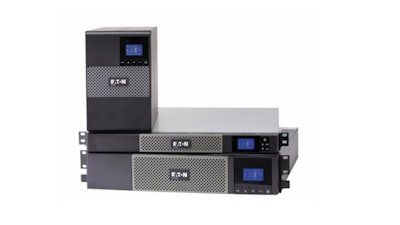 Eaton (Beachwood, OH) announces the North American launch of its 5P rackmount lithium-ion uninterruptible power system (UPS). Building on the best-in-class reliability of the Eaton 5P UPS platform with new lithium-ion battery technology, the 5P lithium-ion UPS provides a dependable, integrated solution with enhanced network security, extended battery life and remote management capabilities that make it the ideal solution for distributed IT and edge computing environments.
The 5P lithium-ion UPS uses lithium-ion batteries that provide enhanced performance compared to lead-acid batteries, with extended service life up to eight years and reducing the need for mid-cycle battery replacement. Lithium-ion batteries also have three times faster recharge capabilities, reducing vulnerability and maximizing uptime in the case of power disruptions.
Additional features include:
User-friendly, lightweight design with 20 percent less weight than a comparable lead-acid UPS.

Versatile mounting options allowing for simple deployment.
Less rack space, compact 1U and slimline wallmount for a reduced footprint.
Five-year standard warranty on the UPS and batteries.