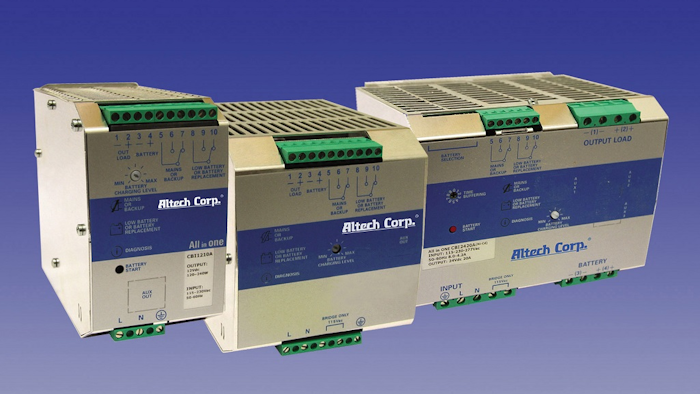 Altech
CBI all-in-one uninterruptible power supply (UPS) power solutions from Altech (Flemington, NJ) combine multiple functions in a single device for use as a power supply unit, battery charger, battery care module, or backup module. The device is compatible with a range of common battery types and is equipped with a real-time diagnostics system to continuously monitor battery status, charging levels, and potentially emerging battery faults. Additional features include:
Availability in 12VDC, 24VDC, and 48VDC output versions for pairing with conventional battery types including open lead acid, sealed lead acid, lead gel, and Ni-Cd (as an option). 

3 charging levels (recovery, boost, or trickle).

The ability to adjust charging current (from 20% to 100% of output current).

Efficiency up to 91% is achieved through switching technology. 

A battery-charging function that is microprocessor-controlled and uses algorithms to detect a battery's condition and then choose the appropriate charging mode. 

Real-time diagnostics enable easy battery diagnosis and fault identification (displayed by LED) to protect against potentially occurring faults.

When disconnected from the main power source, the battery will serve to supply the load until battery voltage reaches 1.5 V per cell, preventing deep battery discharge.

Performance over a temperature range from -40ºC to 70ºC (-40ºF to 158ºF).

A compact and rugged metal case offered in three sizes. 

The ability to be DIN-rail mounted using a built-in bracket.
For more information, visit www.altechcorp.com; or call 908-806-9400.