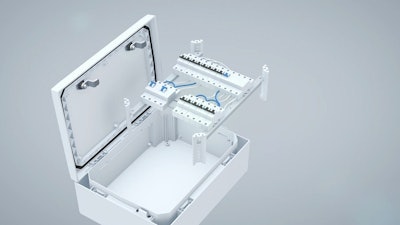 Fibox (Glen Burnie, MD) has presented further enhancements to the NEMA 4X ARCA – IEC series. Save time when assembling your next build with a snap-in lockable inner front door, and an easy to mount DIN-Rail frame solution kit. Specifically:
The lockable door was meticulously designed to fit perfectly without the use of tools or hardware. The DIN-Rail kit lets you populate the rail outside the enclosure, then when you are ready, simply slide the rail assembly into the enclosure base, and connect any wiring.
The ARCA – IEC cabinet is the first real enclosing alternative to steel boxes. Thanks in part to its high impact resistance, this watertight UV resistant polycarbonate enclosure will not dent, rust, crack or bloom like steel or fiberglass.
Manufactured in Fibox's Wi-Fi friendly polycarbonate, a robust high impact resistant thermoplastic, the ARCA - IEC will not dent or crack but flex and return to its shape. The formed in place PUR gasket makes an airtight fit keeping your components dust free and dry.

The ARCA - IEC also weighs considerably less and is easier to modify than its metal or fiberglass counterparts.
These are just a few of the reasons why the ARCA - IEC is the ideal NEMA 4X cabinet for automation controls, instrumentation, and monitoring applications and is available in both portrait and landscape orientation.
www.fiboxusa.com; 410-760-9696