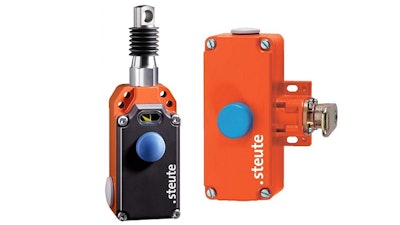 ZF Electronic Systems (Pleasant Prairie, WI) introduces STEUTE's broad ZS Series of Emergency-stop pull wire switches. Each are equipped with snap-action, NC positive-break contacts, providing a safe, reliable means for initiating an E-stop along the length of the installed pull-wire. Specifically:
Switching function occurs if wire is pulled or breaks.
Available for unidirectional and bidirectional operation up to 130 m, with IP ratings up to IP67.
Units feature an integral pushbutton reset; rugged, die-cast aluminum, powder-coated housings; and are ISO EN 13850 and cCSAus-compliant.
www.switches-sensors.zf.com/us; 800-927-6298