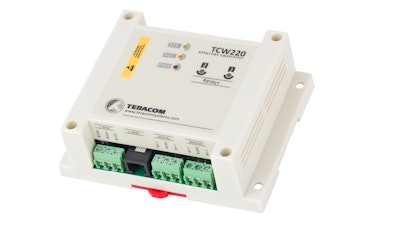 Paralan
Paralan (San Diego, CA) has introduced the Teracom TCW220 Ethernet Data Logger for remote automation and industrial controls. The TCW220 has two analog inputs, with 10-bit resolution and two discrete inputs. It supports a 1-wire interface for up to 8 Teracom 1-wire sensors. Features include:
A memory large enough for at least 36 days with records recorded every minute, up to 70,000 records.
The relays can be activated either remotely or locally.
Password protected we- based configuration and control. 2 digital dry contact inputs; 2 analog inputs with 0 to 10VDC range, with 10-bit resolution.
2 relays with NO and NC contacts.
SNMP v.2 support; SNMP traps to up to 5 recipients like alarm alert.
MODBUS TCP/IP support; TLS 1.0, TLS 1.1 and TLS 1.2 support.
E-mail alarms and alerts to up to 5 recipients.
XML/JSON status files; HTTP API commands.
NTP support; Dynamic DNS support.
Periodical HTTP Post for client-server systems.
Remote firmware update.
For more information, visit http://www.paralan.com.