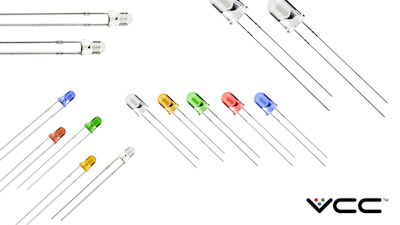 VCC
The new through hole LED indicators simplify design and assembly. VCC (San Diego, CA) has launched the LTHxMM12V Series, a through hole LED indicator with a built-in resistor for 12V DC applications. The built-in resistor not only simplifies and accelerates the design and manufacturing processes, but also offers space and cost savings by eliminating the need for an additional resistor. Features include:
Improved reliability.
Applicability in the automotive industry, boats, landscape lighting, storage servers and other outdoor applications.
Availability in a 3 mm T1 version (LTH3MM12V) and a 5 mm T1¾ (LTH5MM12V) version.
Superior light output for readability in sunlight.
A flange lead frame style.
A domed top with a water-clear lens.
Colors including red, green, blue, yellow, and white.  RoHS and REACH compliant.
For more information, visit https://vcclite.com/new-lthxmm12v-series/.