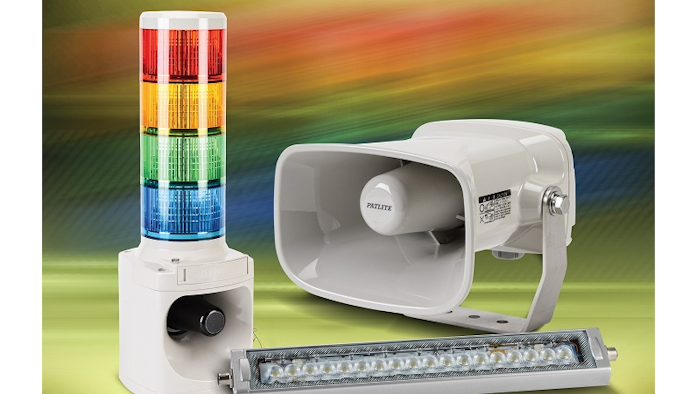 New all-in-one Patlite signal towers from AutomationDirect (Cumming, GA) provide large signal horn and light tower combinations with ultra-bright 100mm LEDs and alarm volumes up to 105 dB. The signal towers have 1, 2, 3 and 4 LED light tiers with continuous or flashing lights and up to 32 alarms. Specifically:
The Patlite HSST series tower station kit includes red, amber and green LED modules. The included three-button light control unit makes the signal tower ideal for operations requiring manual light activation.
Patlite audible signal devices include EHS series electronic sound alarm horns with 32 electronic tones (110dB) for indoor and outdoor mounting; panel mount audible alarm buzzers in AC and DC versions with two selectable alarm sounds, and compact audible alarms with 32 different alarm tones or 15 pre-recorded alarms and messages.
Patlite LED light bars and work lights for machine and workspace lighting have been added to the AutomationDirect enclosure and industrial lighting lineup. AC and DC versions with magnetic mount options are available along with IP69K rated versions for food, beverage and pharmaceutical applications.Robust construction models are suitable for heavy-duty use and versions with M12 quick-disconnect connectors for daisy-chain lighting applications are also available.
www.automationdirect.com/stacklights; 800-633-0405