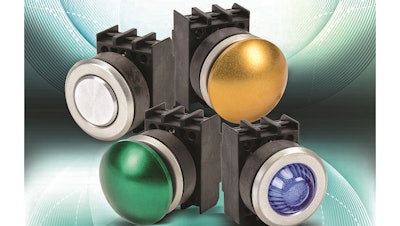 Schmersal E series 30mm pilot devices, now available from AutomationDirect (Cumming, GA) provide simple operator controls and indication for industrial and commercial applications. These rugged and reliable IP65-rated devices include a wide assortment of pushbuttons, emergency stop pushbuttons, LED indicators and selector switches. Specifically:
The pushbutton selections include illuminated and non-illuminated versions with operators available in various colors.

E-Stop versions are available with either a 40mm or 55mm operator and with momentary (general purpose), push/pull or twist-to-release (emergency stop) action types.

Selector switch options include two- or three-position configurations and maintained or spring return action styles. Indicator lights are available with various lens colors, with dome or flat lens options.

Light modules and contact blocks for all pilot devices are sold separately.
www.automationdirect.com/schmersal-30mm, 800-633-0405