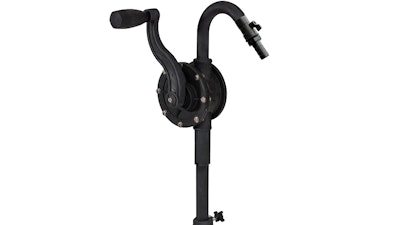 The LX-1321 from Lumax (Fort Mill, SC) is a cost effective, reliable, lightweight rotary pump solution for dispensing aggressive chemicals, acidic solutions, fuels, fuel oils and DEF/Urea/AdBlue from 15 to 55 gallon drums. Specifically:
The smooth operation and high flow rate pumps out 5.5 gallons a minute.

The LX-1321 discharges 11 fl. oz. per revolution.

One gallon discharges per 13 revolutions.

The non-slip, oil resistant grip makes the LX-1321 safer to operate and comfortable to use.

The pump comes with the adjustable 2" bung bushing and non-drip valve removeable spout.
www.lumax.com
; 844-660-6876