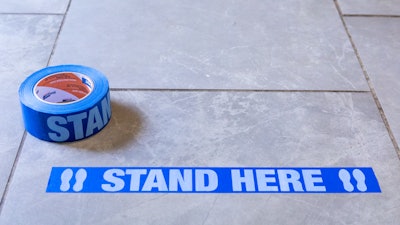 With social distancing guidelines in place for the foreseeable future, Shurtape Technologies, LLC (Hickory, NC) has answered the call by developing the new Shurtape brand CP 27P Multi-Surface Floor Marking Tape.
The premium grade indoor tape is a temporary solution that allows users to indicate proper distancing quickly and economically. Durable and cost-effective, CP 27P easily conforms to virtually any surface and can be removed cleanly when needed.
CP 27P Multi-Surface Floor Marking Tape includes more than 100 "Stand Here" prints per roll. It's a more economical option than decals, allowing maintenance and facility managers to reduce costs while adhering to COVID-19 safety guidelines. Its bright blue color is also clearly visible, and it can be cleanly removed.
www.shurtape.com, 888-442-8273