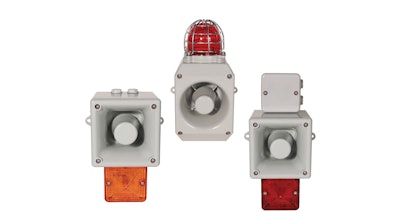 Rockwell Automation (Milwaukee, WI) has initiated a series change for selected frame sizes of Allen-Bradley 855H industrial electronic horns and combination units (horns with attached beacon) to offer a higher degree of performance and to address a broader range of audible and visual applications on the plant floor.
This series change also will affect the 855H recordable horn combination units as well as the metal horn combination units. In most cases, the new Frame B, C and E 855H industrial electronic horns are drop-in replacements for the previous products, however, the new series offers several advantages over the current series:
64 Tone table with 4 stages selectable via external wiring to annunciate a greater number of machine- or equipment-critical conditions.

Extended operating voltage range: 10-60V DC units and 24-260V or 100-240V AC versions

Negative and positive switching for horn stage control

DIP-switch selectable pre-determined tones for stages 1, 2 and 3 as well as independent selection of stage 2 tone

Multiple lens options for quick and easy change of beacon color in the field

Vertically-mounted Xenon strobe beacons (Frame C and E combination units) for increased visibility
Allen-Bradley and is a trademark of Rockwell Automation Inc.
www.rockwellautomation.com, 888-382-1583