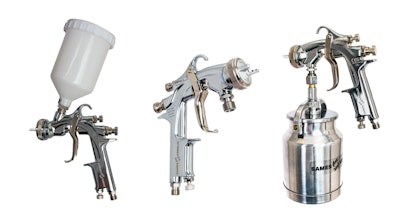 SAMES KREMLIN (Plymouth, MI) presents its new high-quality entry level Airspray gun to complete the range of Airspray manual spray guns. The FSTART is available in Gravity, Pressure and Suction configurations. These Airspray guns are the new, cost-effective solution for professional painters to spray solvent and water-based materials. Benefits include the following:
SAMES KREMLIN's spraying quality and reliability with an attractive price.


Comfortable spray gun that has a lightweight and reduced trigger pull. The FSTART is one of the lightest manual spray guns in its category ensuring a reduction of carpal tunnel injuries.

Easy to repair: you can order the repair kit for easy maintenance for your FSTART spray gun.
www.sames-kremlin.com, 800-573-5554