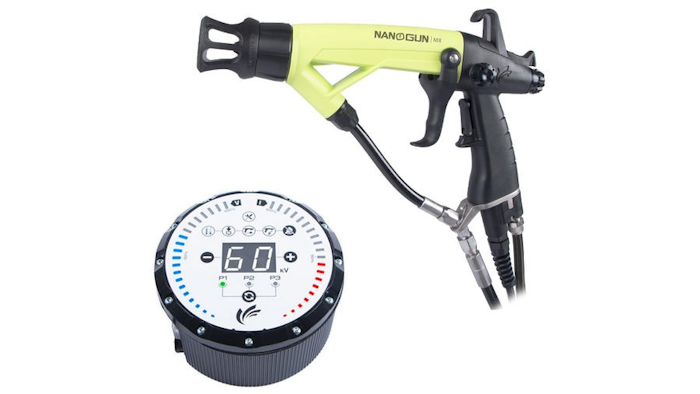 SAMES KREMLIN (Plymouth, MI) introduces the new NANOGUN-MX manual electrostatic spray gun, which links the expertise of Kremlin Rexson and SAMES companies, thus combining electrostatic spray technology for liquid paints with Airmix medium to high pressure spray technology. Perfectly adapted to paints with an average viscosity, NANOGUN-MX spray gun is available in (2) pressure versions: 120 and 200 bar. NANOGUN-MX spray gun is perfect for products with low to high resistivity to meet any product parameters needed. Additional features include:
A light weight and ergonomic design, all while delivering an excellent electrostatic wraparound effect which improves the overall operator experience.
Airmix spray technology, combined with ultimate electrostatic effect, delivering a uniform film build thickness on parts being sprayed and allows users to achieve the highest transfer efficiency in the marketplace. An excellent transfer efficiency contributes to a very quick return on investment while improving your productivity, maintenance costs and VOC reduction.
An innovative GNM 6080 control module that is user-friendly & easy to maintain. It uses high quality components and features with advanced corrective & preventive maintenance reminders.
www.sames-kremlin.com; 800-573-5554