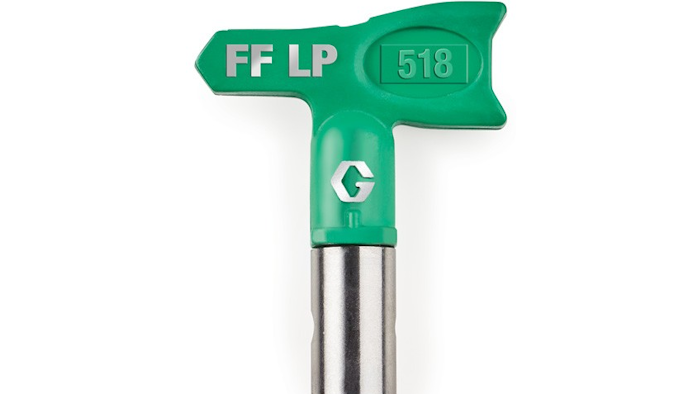 According to Graco Inc. (Minneapolis, MN), the RAC X FF LP SwitchTips are the industry's first fine-finish, low-pressure spray tips featuring breakthrough patent-pending SmartTip Technology to deliver the industry's best finish at low airless spray pressure. The FF LP tips spray at up to 50 percent lower pressure than standard tips, doubling the life of the tips and allowing for less overspray, reduced prep and clean-up time, and easier spray overlap. Other benefits include:
A design intended to work with Graco's exclusive SmartControl Pressure Management System to deliver steady pressure without fluctuations at the lowest airless spray pressure.
An exclusive carbide design and internal tip geometry, reducing the energy required to completely atomize paints, stains and other materials at all airless spraying pressures.
A soft spray fan pattern, making it easy to apply any material to any surface for the industry's best finish.
Availability in a wide range of sizes for large surface and high-production applications and can be used with lacquer, varnish, stain, enamel, oil base paints and latex primers and paints.
www.graco.com; 866-361-5929