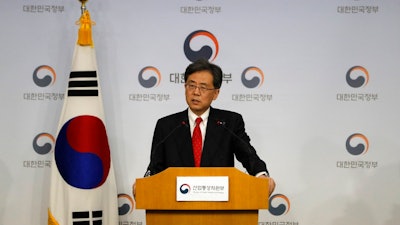 AP Photo/Lee Jin-man
SEOUL, South Korea (AP) — South Korea has agreed to further open its auto market to the United States as the two countries prepare to amend their six-year-old trade agreement following complaints by President Donald Trump.
South Korea's top trade negotiator said Monday that the revised agreement calls for delaying the earlier agreed-to elimination of tariffs on South Korean-made pick-up trucks to 2041 from 2021.
The U.S. side agreed that annual exports of up to 2.7 million tons of South Korean steel products will be exempted from recently announced 25 percent tariffs.
The auto sector is among the most contentious issues in South Korea's trade dealings with the U.S. Yet, the revised agreement will likely have little immediate impact on South Korea's exports to the United States. Nor is it likely to have much impact on U.S. exports to South Korea.
While South Korea made some concessions to U.S. demands on the key auto trade issues, the revision of the free trade pact aligns with South Korea's own interests, experts said.
South Korean negotiators managed to avoid changes in treatment of its agriculture sector, a highly sensitive area in domestic politics.
"Overall, it's a relief," said Cheong Inkyo, a professor of international trade at Inha University in Incheon, South Korea. "The United States achieved most of its goal while we made some concessions in the auto sector. But the outcome falls within our national interest."
South Korea's Trade Minister Kim Hyun-chong said although the United States will end 25 percent tariffs on South Korean-made pick-up trucks 20 years later than earlier planned, no local auto companies export pick-up trucks made in South Korea to the United States.
Conversely, South Korea agreed to allow the number of U.S.-made vehicles to be imported without being subject to local safety regulations to double to 50,000 a year. However, no American car brand sold more than 10,000 vehicles in South Korea last year.
South Korea also will ease emission standards for American cars shipped from 2021-2025, when the Asian country is due to set new import regulations.
South Korean automakers did not comment on the postponement of eliminating tariffs on their trucks. The Korean Automobile Manufacturers Association praised the government's efforts to protect South Korean automakers and avoid major changes on sensitive issues such as adjusting tariffs.
The third-largest steel exporter to the United States after Canada and Brazil, South Korea was among 12 countries whose exports of steel and aluminum Trump recently said would be hit with heavy tariffs.
While the country won a steel tariff exemption, it is still subject to a quota of about 2.7 million tons of steel products a year, about 74 percent of its exports in 2017.
South Korean steel companies said had wanted a larger quota of tariff-free exports to the United States.
"But the result that South Korea would be exempted means that the United States considers South Korea as its main ally and we believe that it would pave the way for good results in future negotiations," the Korea Iron & Steel Association said in a statement.
The agreements in principle were announced Monday just hours after Trump said Friday that the United States was on the verge of revising its trade agreement with South Korea, which took effect in 2012.
Commerce Secretary Wilbur Ross said he hoped a final agreement with Seoul would be announced next week.
The two allies started discussing how to amend the free trade pact in August after Trump blamed it for causing the U.S. trade deficit with South Korea.
The United States ran a $10.3 billion trade deficit with South Korea last year.