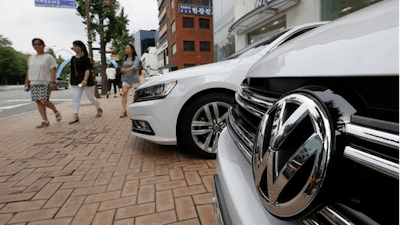 AP Photo/Ahn Young-joon
SEOUL, South Korea (AP) — South Korea has fined Volkswagen 17.8 billion won ($16 million) and suspended sales of 80 VW models, alleging the German carmaker fabricated documents on emissions or noise level tests.
Ministry of Environment official Hong Dong-kon said the government revoked Volkswagen's certifications, effective Tuesday, because submitting forged documents to authorities is against the law.
The South Korean government alleges that since 2007, Volkswagen AG has sold 83,000 units of Volkswagen, Audi and Bentley cars using the forged documents, including some models of the Golf, the Jetta, the Beetle and the Tiguan.
"Forging documents is a clear violation of the law that shakes the foundation of the auto certification system, so it is reasonable to revoke the certifications," Hong told reporters. He said the measure would not affect the owners of those cars.
Hong said Volkswagen likely forged documents to expedite imports of its cars. When importing the Audi A7 to South Korea, for example, the carmaker submitted the test results for the A6, which it has not sold here.
Volkswagen officials said the company had made "revisions" in the documents during a hearing last week, according to the ministry's statement. But it objected to the sales ban as "excessive" because the vehicles still met the emissions and noise level standards. It normally takes three months to get vehicles certified by the government before sales.
Audi Volkswagen Korea apologized and said resolving the matter as soon as possible is its "top priority."
"We regret that MOE has imposed the sanctions against our vehicles," the company said in an official statement. "We are currently reviewing the MOE's decision and considering all available options in deciding how to move forward."
The move is the latest penalty slapped on the German carmaker in South Korea since the diesel emissions scandals last year.
In November, South Korean authorities fined Volkswagen 14.1 billion won ($12.7 million) and banned sales of its diesel vehicles for outfitting them with software that distorted results of emissions tests. That issue is still under investigation.