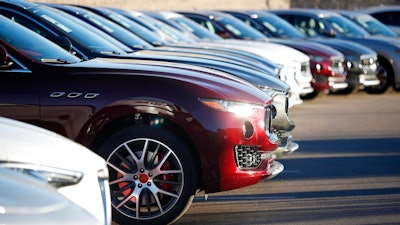 AP Photo/David Zalubowski
WASHINGTON (AP) — U.S. consumers spent less at auto dealers, gas stations and department stores in February, causing overall retail sales to slip 0.1 percent.
It was the third consecutive month of declining retail sales, the Commerce Department said Wednesday, though they're still 4 percent higher from a year ago. Shoppers have opened 2018 with a cold spell after robust spending gains in the months leading up to the holidays.
So far, the promise of higher take-home pay from President Donald Trump's tax cuts appears to have had little influence on spending for big ticket items such as autos.
Consumers have also continued migrating to online outlets such as Amazon and away from traditional department stores, dampening overall sales as the competition to charge the lowest price has increased. Retail sales are increasingly influenced by the aging of the baby boomer generation, who tend to spend less after retirement.
Auto sales fell 0.9 percent last month, while purchases at gas stations tumbled 1.2 percent. Sales at department stores declined 0.9 percent.
But spending at online and catalog retailers climbed, as did spending at building materials stores, restaurants and clothiers to offset much of the decline elsewhere.
The sales decline seems to contradict some of the optimism among retailers, which added a healthy 50,300 jobs in February, according to the Labor Department's jobs report.