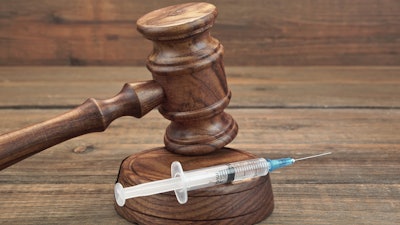 LITTLE ROCK, Ark. (AP) — One of the three drugs Arkansas planned to use in a lethal injection this week was made by a New York company that says it won't sell its products if it fears they'll be used in executions, court documents released Wednesday show.
A package insert and drug label for the state's supply of midazolam released by the state in Pulaski County Circuit Court identifies Athenex as the maker of the drug, one of three used in Arkansas' lethal injection process. The insert was included as part of an affidavit filed by state Correction Department officials.
The affidavit was filed the day after Pulaski County Circuit Judge Mackie Pierce ordered the Department of Correction to release a copy of the insert to Steven Shults, an attorney who had sued the state for the document. The Arkansas Supreme Court last week ruled that a state law keeping the source of Arkansas' execution drugs secret applied to suppliers and sellers, but not drug manufacturers. Pierce ruled Wednesday that other information on the drug label that could be used to identify the drug's seller can be withheld.
The company did not immediately respond to a request for comment, but said in a statement posted on its website Wednesday that it "does not want any of our products used in capital punishment."
"Athenex does not accept orders from correctional facilities and prison systems for products believed to be part of certain states' lethal injection protocols," the company said in the statement. "Further, Athenex distributors and wholesalers have agreements with Athenex not to sell or distribute any such products to these facilities. Athenex does not distribute these products through wholesalers unwilling to implement distribution control to prevent capital punishment."
Arkansas has planned to use the drug Thursday to put convicted murderer Jack Greene to death, but the state Supreme Court halted his execution so that it can consider a lawsuit related to claims that Greene is severely mentally ill. The state is not appealing that order.
Arkansas has not executed an inmate since April, when the state put four murderers to death over an eight-day period. The state originally planned to execute eight inmates that month, before its previous supply of midazolam expired, but four executions were halted by the courts. Two pharmaceutical companies unsuccessfully tried to block the state from using their drugs in the executions. A case is pending before the state Supreme Court over a challenge from a medical supply company, which said it was misled by Arkansas prison officials who bought one of its execution drugs.
Arkansas Governor Asa Hutchinson scheduled Greene's execution after state officials said they had obtained a new midazolam supply. The state said it paid $250 in cash for enough of the drug to carry out two executions.