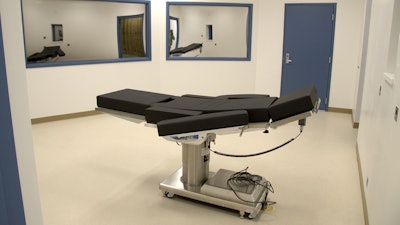 Nevada Department of Corrections via AP, File
LAS VEGAS (AP) — A court-ordered delay of Nevada's first execution in 12 years over a drug company's bid to block the use of its product could have a ripple effect in the other 30 states that allow capital punishment, experts said Thursday. 
"The Nevada case could stall executions in other states if other companies and organizations follow Alvogen's lead," said Deborah Denno, a Fordham University law professor who studies death penalty. Denno referred to a lawsuit filed last week in Las Vegas by New Jersey-based pharmaceutical firm Alvogen that stopped Scott Raymond Dozier's scheduled execution July 11.
Nevada's Attorney General Adam Laxalt's office on Wednesday raised the specter of syringe, intravenous equipment and even latex glove manufacturers mounting courthouse bids to block executions to protect company reputations and avoid criticism in an era of sharp public debate about executing inmates.
"Why not, for instance, the chef of the inmate's last meal? It's easy to see where this road leads," state Deputy Solicitor General Jordan T. Smith wrote in a 64-page appeal filed with the state Supreme Court. The state is expected to also seek an expedited hearing.
The document revealed the Nevada Department of Corrections would have kept the Alvogen name secret, but was forced to disclose it after the American Civil Liberties Union of Nevada filed a hurried public records lawsuit. Alvogen spokesman Halldor Kristmannsson declined to comment Thursday.
The court filing states the difficulty the state had obtaining drugs for an execution and asks justices to overrule Clark County District Court Judge Elizabeth Gonzalez's temporary order banning the state from using the Alvogen drug midazolam for a lethal injection. "Without midazolam, NDOC no longer had (or has) the means to carry out the execution," the appeal said.
It noted that Gonzalez was deciding whether the company had a legal right "to decide not to do business with someone, including the government, especially if there's a fear of misuse of their product."
It acknowledged that Gonzalez concluded there was a reasonable probability that Alvogen would "suffer irreparable damages, including damages to its business reputation" if its drug was used in an execution. But it said the judge's ruling "will not only prevent the execution of Dozier ... it will also open the floodgates for yet another nationwide wave of death penalty litigation that will stall capital sentences indefinitely."
The state argues it didn't do business with Alvogen, but got the drug from a third party, its usual prisons pharmaceutical supplier, Cardinal Health. Cardinal Health officials did not respond to messages Thursday.
"Neither the state nor the third-party distributor needed an elaborate ruse or 'subterfuge' to evade supposed manufacturer sale 'control,'" the court filing said. "No controls existed, despite the manufacturer's public relations comments to the contrary."
Manufacturers "do not retain a property interest in products that their distributors resell," the document declared, "and they cannot sue states to recover lawfully purchased drugs."
Robert Dunham, at the Death Penalty Information Center in Washington, D.C., characterized the court fight as "a property dispute with life at stake. This is not a stay of execution," Dunham said. "It's a temporary restraining order on the use of the drug. The fact that it stops the execution is secondary."