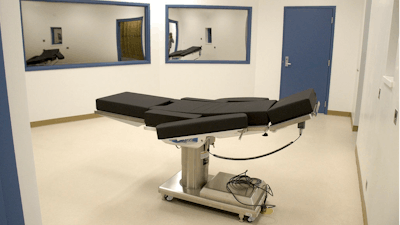 Nevada Department of Corrections via AP, File
LAS VEGAS (AP) — A Nevada inmate slated to die by a three-drug lethal injection combination never before used in the U.S. has said repeatedly he wants his sentence carried out and he doesn't care if it's painful.
But a last-minute lawsuit filed by a drug company that doesn't want its product used in "botched" executions could derail Scott Raymond Dozier's scheduled Wednesday execution.
New Jersey-based Alvogen filed court documents Tuesday saying Nevada prison officials illegally obtained the sedative midazolam and demanding it be returned and not used in Dozier's execution.
"Midazolam is not approved for use in such an application," the document said, adding uses of midazolam in other states "have been extremely controversial and have led to widespread concern that prisoners have been exposed to cruel and unusual treatment."
Clark County District Judge Elizabeth Gonzalez scheduled a hearing Wednesday to decide if the execution can take place just hours later. A Nevada prisons spokeswoman did not comment.
Midazolam was substituted in May for expired prison stocks of diazepam, a similar sedative commonly known as Valium. Nevada's first-of-its-kind plan also calls for the powerful synthetic opioid fentanyl to slow Dozier's breathing and the muscle paralytic cisatracurium to prevent movement and stop his breathing.
Nevada refused Pfizer's demand last year to return the company's diazepam and fentanyl, which has been blamed for overdoses nationwide but has not been used in an execution.
Pharmaceutical companies have been resisting the use of their drugs in executions for 10 years, citing both legal and ethical concerns, but McKesson Corp. became the first company to sue in the U.S. last year over use of its product in an Arkansas execution, said Robert Dunham, executive director of the Death Penalty Information Center.
McKesson said it wanted nothing to do with executions and accused the state of obtaining vecuronium bromide, a drug used to stop inmates' lungs, under false pretenses.
The Arkansas Supreme Court ruled against the company and allowed that execution to go forward, but legal questions about whether pharmaceutical companies can block use of their drugs in the death penalty haven't been resolved, Dunham said.
The twice-convicted killer in Nevada has said he prefers death to life behind bars.
"I've been very clear about my desire to be executed ... even if suffering is inevitable," Dozier said in a handwritten note to a judge who postponed his execution in November over concerns the untried drug regimen could leave him suffocating, conscious and unable to move.
Dozier, who attempted suicide in the past, repeated his desire to die during recent interviews with the Reno Gazette Journal and Las Vegas Review-Journal.
"Life in prison isn't a life," the 47-year-old told the Review-Journal. He has not responded to messages through his lawyers to speak with The Associated Press.
Clark County District Judge Jennifer Togliatti invited state Supreme Court review, saying she expected the Nevada execution to be closely watched by officials in states that have struggled in recent years to identify and obtain drugs from pharmaceutical companies that don't want their products used for the death penalty.
The state high court in May decided on procedural grounds that the execution could go forward but did not review the three-drug protocol that death penalty experts have characterized as experimental and risky.
"Because Nevada is using a combination of drugs that no one has used before, there is a lot about its protocol that we don't know anything about," Dunham said.
The midazolam is expected to render Dozier unconscious before he is injected with the fentanyl. That will be followed by the muscle paralyzing drug.
Midazolam has been used with inconsistent results in states including Alabama, Arkansas, Arizona, Florida and Ohio. Dunham noted the 2014 executions of Dennis McGuire in Ohio and Joseph Rudolph Wood III in Arizona left both inmates gasping and snorting before they died.