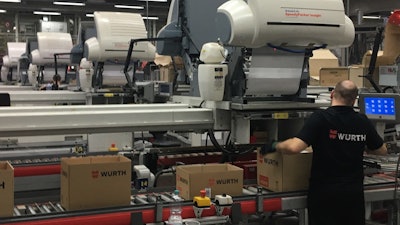 Founded by Adolf Würth in 1945, the Würth Group began as a two-person, family business in Germany specializing in assembly and fastening materials. Today, the $13 billion global wholesaler serves three million customers in more than 80 countries and employs upwards of 73,000 people.
Würth offers more than 125,000 products, ranging from screws, screw accessories and anchors to tools, chemical-technical products and personal protection equipment. The Allied Companies of the Würth Group provide products for DIY stores, material for electrical installations and other electronic components.
Thomas Scherner, head of fulfillment at the Würth Group, recently sat down to offer some perspective on the company's approach to supply chain logistics and the challenge of safely delivering products to customers amid the pressures of ever-increasing shipping costs.
What are some of the key challenges in maintaining your global fulfillment operations?
On average, we ship approximately 40,000 packages a day out of Würth's main fulfillment facility in Künzelsau, Germany. Keeping pace with that kind of throughput volume is certainly one of our biggest challenges. In addition to the screws, anchors and similar products we're known for and which are easily packaged, we also ship many different individual parts that are sometimes oddly shaped, harder to package and hence, sometimes more vulnerable to damage during transportation.
So, if you add in the complexity of our broad portfolio of products that vary widely in their size, shape, weight and protection needs, there is this constant struggle to deliver products quickly, on-time and damage-free, while also maximizing packaging efficiencies so as to help mitigate shipping costs.
How have you enhanced the efficiency and protection of your shipments?
We worked with Sealed Air during an 18-month period to assess our shipping systems and processes and look at ways to increase productivity and velocity, reduce damage and save materials. It was critical that Sealed Air have the time to understand the full scope of our business, the breadth of our product line and the market environment in which we operate.
We strategized ways to address our dual need for steadily increasing throughput and reducing damage. We also worked with Sealed Air to figure out how to do a better job of creating right-sized packages for all the different types of products we ship. Sealed Air showed us how we could reduce material usage, enhance fulfillment efficiency, maximize product protection and save money on shipping by minimizing excess container space and using more effective void fills.
What kinds of changes did you ultimately implement?
One of the primary things we did was to begin using Sealed Air's Instapak® foam-in-bag packaging solution, which expands in seconds to form a custom-fit, protective foam cushion around a product we are shipping. This allows our fulfillment team to place foam in the empty areas of a box and proceed to the next step. Our employees simply determine the size of the void that needs filling, select either a small or a large Instapak® bag, dispense the foam into the bag, place it in the box and the product is ready for shipping.
What are some of the other tangible benefits you've seen from making this change?
The Instapak® solution allowed us to further centralize our packaging material supply chain, increase our material efficiency by 34 percent and achieve our current average throughput of 40,000 packages per day. We've also seen a significant reduction in product damage. And because the material only expands at the time of packing, we have enjoyed space savings as well.
Above all, our fulfillment team finds Instapak® to be very versatile, since it protects products of almost any shape, size and weight. It also doesn't require capital equipment, so there's no downtime, which has contributed to the reliability of our shipping operations. At the end of the day, our customers around the world expect our products to arrive on time and intact, and by implementing Instapak® we have been able to deliver more effectively and efficiently on that promise.
For video showcasing the work between the two companies, click here.