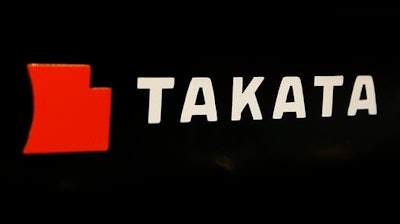 AP file
TOKYO (AP) — Takata Corp., the Japanese manufacturer at the center of massive air bag recalls, reported Friday that fines in the U.S. will push it into the red for the fiscal year through March.
Tokyo-based Takata said Friday that instead of posting a 20 billion yen ($176 million) annual profit, as it had earlier projected, it will sink into a 64 billion yen ($562 million) loss.
Last month, Takata agreed to plead guilty to a single U.S. criminal charge and pay $1 billion in fines and restitution related to air bag recalls.
That was part of plea agreement with the U.S. Justice Department over Takata's scheme spanning years to conceal the deadly defect in its air bag inflators, which can explode with too much force, sending shrapnel spewing.
The supplier also faces class-action lawsuits as well as litigation filed by the states of Hawaii and New Mexico.
Takata, which also makes seatbelts, has racked up two straight years of losses over the recalls but had hoped to return to profitability in this fiscal year. But it had said repeatedly that huge uncertainties remain.
At least 16 deaths and more than 180 injuries have been blamed on the problem worldwide. In the U.S. 19 automakers are recalling 69 million inflators in what has become the largest automotive recall in the nation's history. The tally is more than 100 million inflators globally.
For the first nine months of the fiscal year, April-December, Takata posted a 67 billion yen ($589 million) loss, a reversal from 2.5 billion yen in profit the same period a year ago.
April-December sales declined nearly 10 percent to 491.6 billion yen ($4.3 billion).
Takata has denied a decision has been made on which company might acquire it, despite some media reports that say Key Safety Systems Inc., based in Sterling Heights, Michigan, may be favored. Key Safety Systems declined comment.
The risk for the inflators exploding grows with the age of the vehicles but the supply of replacement parts is not keeping up with the recalls. Owners of affected models can get their inflators replaced for free, but they may have to wait years.
___