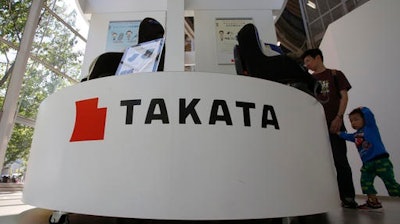 AP file
Japanese auto parts maker Takata Corp. has pleaded guilty to a criminal charge and agreed to pay $1 billion for a scheme to conceal a deadly defect in millions of its air bag inflators.
Takata admits to hiding problems that can cause inflators to explode with too much force, hurling shrapnel into drivers and passengers. U.S. prosecutors still are seeking extradition of three former Takata executives from Japan to face criminal charges.
Detroit federal Judge George Caram Steeh accepted a guilty plea to a fraud charge Monday. He says he wrestled with whether to order a larger fine against Takata for its air bag cover-up but decided that it would put the company out of business and harm victims.
Judge George Caram Steeh accepted Takata's guilty plea Monday and restitution for automakers and victims injured or killed by defective air bag inflators. Takata will pay $850 million to automakers, $125 million to victims and $25 million to the U.S. government.
The judge says "destruction of the corporation would probably be a fair outcome." But he noted that it wouldn't help people who were hurt.
Takata's chief financial officer, Yoichiro Nomura, says the company's conduct over 15 years was "completely unacceptable."