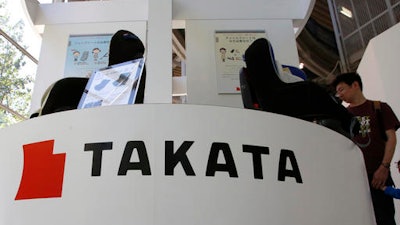 AP Photo/Shizuo Kambayashi, File
TOKYO (AP) — Faced with mounting costs from a global recall of air bags, Japanese supplier Takata Corp. has hired the advisory firm Lazard to engineer a restructuring of its finances, likely with the help of some of its biggest customers.
Takata air bags can deploy with too much force, spewing shrapnel into the vehicle. They are responsible for at least 11 deaths and more than 100 injuries worldwide. Authorities in Malaysia have begun an investigation into two more recent deaths.
Takata recently agreed to recall an additional 40 million air bag inflators in the U.S. Globally, Takata may be forced to recall more than 100 million inflators and analysts estimate the cost of making replacement parts could total tens of billions of dollars. As of March 31, Takata had around $530 million in cash and short-term investments.
Scott Upham, CEO of Valient Market Research in Philadelphia, which tracks air bag sales, estimates it will cost $100 per inflator for parts and another $100 for shipping and labor to install them. That means the cost of replacing 100 million inflators will be above $20 billion. "It could get worse than that," he said.
Honda, Toyota and Fiat Chrysler are among the biggest customers for Takata inflators. In all, 17 automakers are affected by the recalls. Many automakers have said they will stop using Takata air bag inflators in models under development, and they will be billing Takata for the recall costs.
Hideaki Sudo, a lawyer who heads the committee at Takata dealing with the recall fiasco said Lazard will help with restructuring in partnership with its auto customers.
"These are highly challenging and complex issues, but the committee strongly believes that it is in the best interests of all Takata stakeholders for Takata and its automotive customers to reach a consensual resolution that addresses the costs of the inflator issues while enabling Takata to remain a viable and valued global supplier," Sudo said in a statement.
Tokyo-based Takata, which also makes seat belts, has sunk into red ink for the last two fiscal years over the recalls, racking up a loss of 13 billion yen ($120 million) for the fiscal year that ended in March, largely due to recall-related costs.
Because of the sheer numbers involved, it will take years to manufacture all the necessary replacement parts.
Upham sees Takata going through a bankruptcy restructuring to shed some recall costs, with investors taking control of the company and changing its management. "Maybe there's time to right the ship," he said.
Takata said it is seeking new investment and improving the company's governance and transparency. It has repeatedly said it is trying to determine the root cause of the inflator problems to come up with fixes. The recalls have been ordered because regulators feel the inflators are too dangerous to wait until the exact cause is pinpointed.
Lazard has financial advisory clients in more than 70 nations and has offices around the world in more than 40 cities, including New York, Beijing, Frankfurt and Sao Paulo.