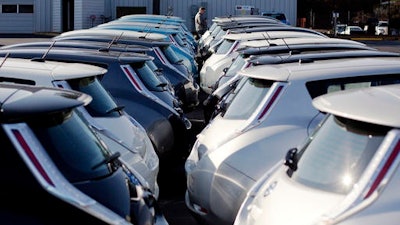 AP file
DETROIT (AP) — U.S. sales of new cars and trucks fell in August, ending summer on a low note for the auto industry and making it less likely that this year's auto sales will match the record set in 2015.
General Motors' sales dropped 5 percent from last August while Ford's sales were down 8 percent. Toyota's sales were down 5 percent, Honda's fell 4 percent and Nissan's dropped 6.5 percent. Volkswagen's sales dropped 9 percent. Hyundai's sales were flat.
Fiat Chrysler bucked the trend with a 3 percent increase in sales, while Subaru's were up 15 percent. Both companies benefited from consumers' increasing preference for SUVs. Sales of Fiat Chrysler's Jeep brand rose 12 percent.
Overall industry sales dropped 4 percent to 1.5 million vehicles, according to Autodata Corp. Total sales through August are up less than 1 percent over last year.
This isn't unexpected. After six straight years of growth — and record sales of 17.5 million new vehicles last year — the industry has been bracing for a plateau as consumer demand wanes. U.S. sales outpaced broader economic growth coming out of the recession, but now they're settling in to a more sustainable pace.
"We're no longer in a period where we have a lot of pent-up demand coming out of the economic crisis," said Bryan Bezold, Ford's senior U.S. economist.
But Bezold noted that even as sales plateau, they remain near historically high levels, so it's not all gloomy for the auto industry. Low gas prices, low interest rates and strong consumer confidence should keep people buying, even if it's at a slower pace.
The biggest wild card for the remainder of this year is how automakers respond to the softness in the market. They could ramp up incentives, which is what happened in August; car shopping site TrueCar.com estimated that incentives grew 8 percent to an average of $3,331 per vehicle. But they need to be careful, because those deals hurt profits and resale values. Automakers may also have to cut production to match consumer demand.
Cars took the most serious beating in August as buyers continued to flock to SUVs. Ford's car sales plummeted 27 percent; its Fusion sedan, despite a recent remodel, was down 33 percent. Nissan said its car sales dropped 25 percent, while Toyota's car sales fell 12.5 percent.
Michelle Krebs, a senior analyst with Autotrader.com, said small and midsize car sales are dropping despite good deals, like zero-percent financing for five years on a 2016 Toyota Camry.
"For the consumer who is OK having a car, that's the place to shop," she said.
Here are more details on August sales:
General Motors Co. said its Cadillac sales grew 4 percent, thanks in part to its new CT6 sedan and XT5 SUV. But its Buick, Chevrolet and GMC sales fell, and its overall sales dropped 5 percent to 256,429 vehicles. Sales of GM's best-seller, the Chevrolet Silverado pickup, dropped 5 percent. GM has cut back sharply on low-profit sales to rental car companies, which accounts for some of the losses.
Ford Motor Co.'s Ford brand sales were down 9 percent, but Lincoln sales rose 7 percent thanks to the new MKX SUV. Ford's overall sales fell 8 percent to 214,482. Ford's best-seller, the F-Series pickup, saw a 6-percent sales decline from last August, which was a particularly strong month for truck sales.
Toyota Motor Corp.'s sales dropped 5 percent to 213,125. Toyota brand sales were down 5 percent while luxury Lexus sales dropped 8 percent. Low gas prices continued to hammer hybrids; sales of the Toyota Prius dropped 27 percent.
Fiat Chrysler's sales rose 3 percent to 196,756. Chrysler brand sales dropped 22 percent despite the new Pacifica minivan, and Fiat sales were down 21 percent. But Ram, Jeep and Dodge sales were up.
Honda Motor Co.'s sales dropped 4 percent to 149,571. Honda brand sales fell 3.4 percent while the Acura brand was down 7 percent. The new Ridgeline pickup helped Honda post an increase in truck sales.
Nissan Motor Co. said its sales fell 6.5 percent to 124,638. Infiniti sales were down 2 percent but Nissan brand sales fell 7 percent. SUV demand remained strong; Rogue small SUV sales were up 19 percent.
Hyundai's sales were flat at 72,015 vehicles. Sales of Hyundai's best-seller, the Elantra small car, were down 7 percent, but sales of its Santa Fe SUV jumped 35 percent.
Subaru's sales rose 15 percent to 60,418. Sales of its Outback SUV jumped 56 percent from a year ago.
Volkswagen's sales fell 9 percent to 29,384 as the brand continued to deal with the fallout from its diesel cheating scandal. Its new electric e-Golf was a bright spot, with sales up 19 percent.