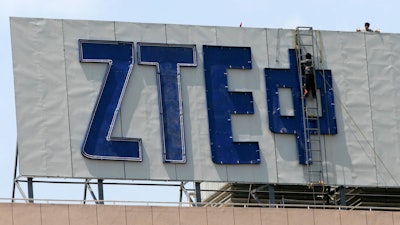 Chinatopix via AP
Washington has restricted the access of one of China's biggest telecoms equipment makers, ZTE Corp., to American components after concluding the state-owned company improperly exported U.S. technology to Iran.
The sanctions took effect Tuesday after ZTE was found to be "acting contrary to the national security or foreign policy interests" of the United States, the U.S. Commerce Department said. The department released documents it said showed ZTE set up front companies to evade U.S. controls on high-tech exports to Iran.
The Chinese government said it opposes the U.S. sanctions. ZTE's technology purchases support thousands of U.S. jobs that might be in jeopardy, the Commerce Ministry said. "This approach will only hurt others without necessarily benefiting oneself," said China's foreign minister, Wang Yi, at a news conference Tuesday during the meeting of the national legislature.
ZTE said it was "fully committed" to obeying the law wherever it operates.
"ZTE has been cooperating, will continue to cooperate and communicate with all U.S. agencies as required," said a company statement. "The company is working expeditiously toward resolution of this issue."
The conflict reflects the complex ties between U.S. and Chinese technology companies despite Washington's concerns about sharing advanced know-how with China.
Most of the world's smartphones and personal computers are assembled in China. ZTE and other Chinese companies are developing their own technology but rely on Western chipsets and other components.
The sanctions could prompt Chinese leaders to push for faster development of their own fledgling technology suppliers, said Nikhil Batra, research manager for Asia-Pacific telecoms for IDC.
"It might be a boon" to officials who want to reduce reliance on foreign sources, said Batra. "It's not likely to be their chief concern that one of their companies has been sanctioned when it can lead to better development of China as a technology marketplace," he said.
American companies also might be vulnerable to retaliation, Batra said. He noted Beijing fined American chip supplier Qualcomm Technologies Inc. and investigated software giant Microsoft Corp. on anti-monopoly charges after Huawei Technologies Ltd. was forced out of the U.S. server market following complaints it might be a security risk.
Founded in 1985 as Zhongxing Semiconductor Co. Ltd., ZTE is a major supplier of network switching gear and other telecoms products. It assembles smartphones for other companies and has launched its own brand.
ZTE and three other entities, including one in Iran, "were identified in the scheme developed by ZTE Corp. to re-export controlled items to Iran contrary to United States law," said a Commerce Department announcement.
It said they will face additional requirements to apply for export licenses and gave no indication whether they would be granted.
Two documents released by the department described a "detached (business) model" and "detached (shell) companies" set up to handle sales to Iran of products covered by U.S. trade embargoes. The documents were marked "Top Secret Highly Confidential." The Commerce Department did not say how it obtained them.
The sanctions threaten to disrupt sales by U.S. technology suppliers such as Intel Corp. and Qualcomm. They earn billions of dollars a year from chip sales, license payments and other revenue from Chinese customers.
ZTE spends about $450 million every quarter on U.S. technology, according to Batra. In addition to Qualcomm and Intel, he said suppliers include Avnet Inc., which makes electronics used in routers.
Intel is "still assessing the possible impact," a company spokesman, Will Moss, said in an email.
Potential non-U.S. suppliers include MediaTek Inc., a Taiwanese maker of chipsets used by Chinese smartphone brands Huawei and Xiaomi, and South Korea's Samsung, said Batra. But he said for components in network routers and other advanced products, there is no alternative to Intel or rival Advanced Micro Devices Inc.
"It's going to be a big impact for both sides — for ZTE as well as the U.S. companies," he said.
ZTE, headquartered in the southern city of Shenzhen, said it earned 2.6 billion yuan ($400 million) on revenue of 81.5 billion yuan ($12.5 billion) in 2014, the most recent year for which it has reported results.
U.S. authorities earlier cited ZTE as a possible security risk. In 2012, a congressional panel said the company and rival Huawei were potential threats and Americans should avoid doing business with them.