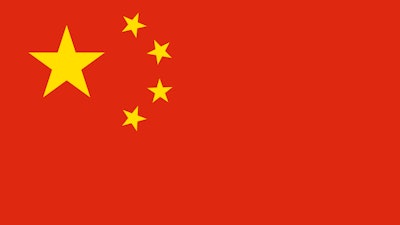 WASHINGTON (AP) — Chinese cellphone equipment maker ZTE Corp. will plead guilty and pay the United States nearly $900 million for shipping sensitive U.S.-made technology to Iran in violation of U.S. sanctions, the Justice Department said Tuesday.
The corporation violated export controls that are designed that keep sensitive American technology out of the hands of hostile regimes and lied to federal investigators about their actions, Attorney General Jeff Sessions said.
ZTE pleaded guilty to three felonies and also settled charges with the Commerce and Treasury departments. It has also agreed to pay another $300 million, suspended during a seven-year-period, if it does not meet the terms of the agreement, which includes the appointment of a corporate compliance monitor.
The settlement marks the largest civil fine ever imposed in a Commerce Department export control case. An official who requested anonymity to discuss the terms of the agreement said it was also largest Justice Department criminal fine in an export control or sanctions case.
The Trump administration sought to portray the settlement as a sign it intended to get tough on those who violate sanctions.
"Those who flout our economic sanctions and export controls will not go unpunished," Commerce Secretary Wilbur Ross said in a statement.
But much of the investigation was conducted under the Obama administration. The departments of Justice and Homeland Security started looking into reports of illegal conduct by ZTE in 2012.
"It's a big deal — it sends a really strong message," said Amanda DeBusk, chair of the international department at the law firm Hughes Hubbard & Reed. "The U.S. isn't going to be shy about going after companies connected to the Chinese government."
Several of ZTE's top shareholders are corporations owned by the Chinese government.
According to court documents, ZTE obtained the banned goods, including cellular network equipment, over a six-year period and shipped them to customers in Iran, knowing that the sales violated the sanctions. The company also made 283 shipments of cell phone equipment to North Korea in violation of U.S. embargos in that country, the Commerce Department said.
"ZTE acknowledges the mistakes it made, takes responsibility for them, and remains committed to positive change in the company ... We are committed to a new ZTE, compliant, healthy and trustworthy," ZTE CEO Zhao Xianming said in a statement.
Officials from the departments described an elaborate scheme by the company to ship about $32 million worth of U.S.-made equipment to Iran while lying to federal investigators. ZTE hid the data related to the transactions from a forensic accounting firm.
Founded in 1985, ZTE is based in China's southern province of Guangdong. It is one of the world's biggest telecommunications companies with subsidiaries in the U.S., Asia, Europe and South America.