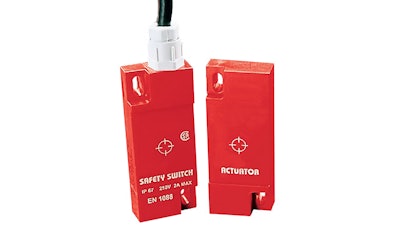 Rockford Systems
Rockford Systems (Rockford, IL) has a new line of non-contact magnetic switches that make sure a machine's chip deflection shield is properly positioned between the operator and machine's point of operation hazard while running. Chips are very sharp and can cause serious, sudden injuries to the operator without the shield in place. The switches (parts #CMC097, #CMC098) feature:
Use on slide or swing-open style machine shields.
Tolerance for limited misalignment between the switch and the actuator.
Reed-type switches - they use magnetic actuation.
A magnetic actuator that makes contact with the switch when the shield closes, creating a high intensity field that allows the machine to be started when the operator is ready.
Upon detaching, the safety contact opens, the power is interrupted and the machine turns off.
The ability to be used for certain barrier guard and perimeter guard applications.
Resistance to the shock and vibrations of heavy machinery.
A high level of prevention against tampering.
Water-resistance, and meet CE and UL approval.
For more information, visit www.rockfordsystems.com.