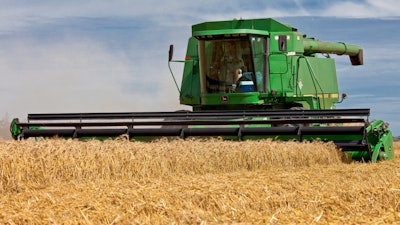 An Oregon tribe filed a lawsuit against three individuals and farm equipment giant John Deere over their alleged role in starting a 2017 wildfire on its reservation.
The Portland Oregonian reports that the suit, filed by the Confederated Tribes of Warm Springs, accused a local rancher, his brother and a contractor of negligence in operating a Deere combine harvester that inadvertently sparked the fire.The complaint suggested that Deere, meanwhile, made equipment that malfunctioned during the course of routine ranch work.
State fire officials, according to the paper, determined that a rock caught in the intake chute of the combine likely caused the machine to begin shooting sparks while harvesting wheat. The hot, dry conditions in central Oregon in August, the department added, caused the fire to spread. It ultimately burned more than 68,000 acres over two weeks.The lawsuit argued the combine should have been able to deal with normal field debris and should have included additional operator alerts or safety switches.
The tribe reportedly sought more than $12 million in damages to compensate for timber burned in the fire. John Deere declined to comment to the Oregonian.