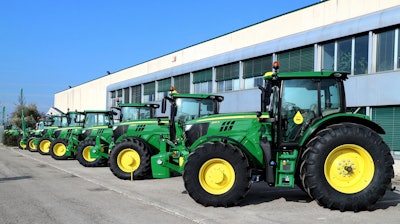 iStock
According to reports from the Quad Cities Times (QCT) and the Des Moines Register, Deere & Co. has announced layoffs for more than 160 employees at two plants in the Quad Cities, to occur later this fall.
QCT cited Ken Golden, director of global public relations at Deere saying Tuesday that about 50 workers at Harvester Works in Moline, IL were informed they will be placed on indefinite layoffs as of Oct. 28, while about 113 workers at Davenport Works learned they will also be laid off effective Nov. 18.
The two news outlets said Deere noted decreased customer demand has led to lowered expectations for sales and profit as 2019 progressed.
"In response to these market conditions, Deere employees at two Quad-City locations were informed they will be placed on indefinite layoff," the QCT quoted Golden, who added that each Deere factory balances sizing its production workforce with customer demands for products from their individual factory. "Despite uncertainties of current market conditions, we remain confident in our business strategy and long-term future."
Based in Moline, IL, Deer & Co. manufactures agricultural, construction and forestry machinery, diesel engines, drivetrains used in heavy equipment and lawn care equipment.
"Concerns about export-market access, near-term demand for commodities such as soybeans, and overall crop conditions, have caused many farmers to postpone major equipment purchases," Deere CEO Sam Allen said in the company's 2019 third-quarter earnings report, released in August.