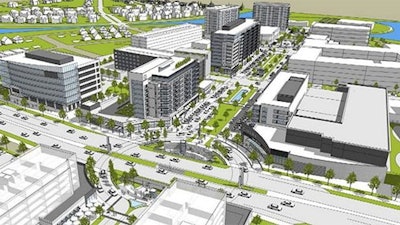 MinnPost, @MinnPost
ST. PAUL, Minn. (AP) — An eastern Minnesota county has approved a mixed-use development at a former ammunition plant on a large swath of suburban land that's sat empty for more than 40 years.
The Ramsey County Board agreed on Tuesday to sell the former Army Ammunition plant in Arden Hills to developer Alatus, LLC for nearly $63 million, Minnesota Public Radio News reported.
A proposal calls for the company to acquire the property in five phases between 2020 and 2034. Plans for the new development to be called Rice Creek Commons include three residential neighborhoods, parks, and retail and office space.
The former factory began churning out .30- and .50-caliber ammunition during World War II, and closed in 1976.
Soil and groundwater pollution made the land unsafe to reuse. The site was added to the U.S. Environmental Protection Agency's Superfund Program in the 1980s.
Ramsey County purchased 427 acres (173 hectares) of the site in 2013 and began cleaning it up.
"We expect to delist that site from soil contamination. It is basically ready to go," said Louis Jambois, an economic development consultant who is Ramsey County's lead negotiator on the project.
He said construction crews could start grading the land as soon as next year.
The plan fits within the original principles the city and county agreed upon when the project started.
"There's been a number of conversations between all the partners at different levels about where we're at in that master development agreement," said Ramsey County Board Chair Jim McDonough.
The plan will go to the city-county joint development authority set up to oversee the project. The panel, which includes Mayor David Grant and an Arden Hills council member, will decide how quickly the project moves forward.