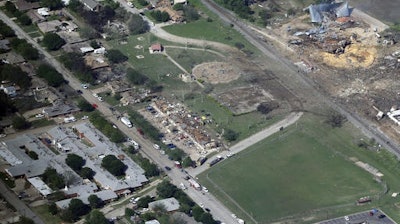 AP file
WASHINGTON (AP) — Environmental Protection Agency administrator Scott Pruitt moved Thursday to rescind much of a package of safety measures proposed for chemical plants nationwide after a deadly blast at a Texas fertilizer plant.
Pruitt signed a significantly revised slate of rules from the Obama era on safety and risk management at 12,500 U.S. facilities, including chemical plants and refineries. A chemical manufacturing group welcomed the changes, while spokesman Alex Formuzis of the Environmental Working Group called them a "hollowing out" of the original safety upgrades.
The rules were prompted by a 2013 explosion at a fertilizer plant in West, Texas, that killed 15 people, including 10 firefighters. The blast ripped open a 90-foot-wide crater and hurled debris for miles.
Pruitt's changes eliminate several of the original requirements concerning safety training, accident prevention and accident investigations.
The revised version signed by Pruitt also would remove a requirement that members of the public who ask the plants should receive information about any chemical risks and community emergency plans.
That change "would make it harder for those living near these plants to get basic information" about any dangers posed, said Eric Schaeffer, director of the Washington-based Environmental Integrity Project nonprofit.
In a statement, Pruitt said the revised slate of proposed rules "reduce unnecessary regulatory burdens."
"Accident prevention is a top priority at EPA, and this proposed rule will ensure proper emergency planning and continue the trend of fewer significant accidents involving chemicals," Pruitt said.
The central Texas town's fire department was staffed by volunteers who had no formal training or planning to prepare them for a fire or emergency at the fertilizer plant, an investigation by the U.S. Chemical Safety Board found.
As the blaze engulfed the plant, firefighters rushed in to contain it and remained despite at least one warning to evacuate, a state fire marshal's report found. They began backing out only moments before the ammonium nitrate exploded.
Pruitt signed the rule surrounded by onlookers, including chemical-industry representatives. The Society of Chemical Manufacturers and Affiliates, which said in a statement it had opposed the initial version of the regulation proposed by the Obama administration, applauded the revision signed Thursday, saying it modified a requirement for outside audits of risk-management plans and other rules that the chemical manufacturers group had objected to.
The Trump administration will solicit public comment on the proposed rules before it makes final decisions on enacting them.