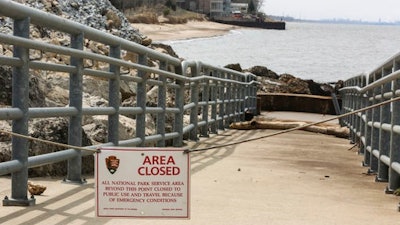 AP file
PORTAGE, Ind. (AP) — A proposed federal settlement inadequately punishes U.S. Steel for chemical spills into Lake Michigan, according to Chicago officials and a surfing organization.
The deal calls for U.S. Steel to pay nearly $900,000 in fines and penalties for spills at the Midwest Plant in Portage, Indiana, test for hexavalent chromium daily, create a preventative maintenance program and upgrade pollution monitoring.
The Chicago Law Department and the nonprofit Surfrider Foundation said in a letter to the U.S. Environmental Protection Agency on Monday that they'll oppose the deal in federal court if the EPA and the Department of Justice don't make significant changes.
"Lake Michigan is our region's most precious resource, and we are determined to change this situation permanently and positively and to prevent such violations from recurring," the letter said.
The groups want environmental improvement projects for communities near the Portage plant, an independent study of potential long-term damage caused by the spills and an automated early warning system to detect future spills.
The University of Chicago's Abrams Environmental Law Clinic discovered last year that the manufacturing and finishing plant had violated chromium limits in its federal water pollution permit at least four times since 2013. The plant's chromium discharges are limited to 30 pounds a day, while hexavalent chromium is limited to about half a pound a day.
One violation was during an April 2017 spill that dumped almost 300 pounds of hexavalent chromium into the Burns Waterway, which feeds into Lake Michigan. Another violation occurred when the plant discharged almost 57 pounds of chromium into the waterway in October.
The toxic heavy metal might be carcinogenic if ingested, according to the EPA.