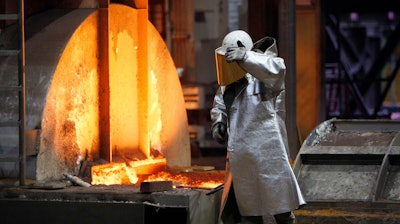 GRANITE CITY, Ill. (AP) — U.S. Steel Corp. says it will restart one of two blast furnaces along with steel-making facilities in Illinois after President Donald Trump announced a 25 percent tariff on steel imports.
The Belleville News Democrat reports that Pittsburg, Pennsylvania-based U.S. Steel said Wednesday that it anticipates calling about 500 Granite City Works employees back to work in March. The company says the change comes due to anticipated demand for more U.S. steel in response to Trump's tariff announcement last week.
About 2,000 workers were laid off when U.S. Steel idled the St. Louis-area plant in late 2015.
U.S. Steel president and CEO David Burritt says Trump's action "recognizes the significant threat steel imports pose to our national and economic security."
Trump has said the tariffs are needed to preserve American industries and protect national security.