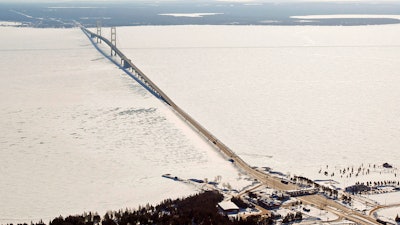 Keith King/Traverse City Record-Eagle via AP
LANSING, Mich. (AP) — Michigan Attorney General Bill Schuette has sued the company he says damaged electric cables and oil pipelines in a Great Lakes channel by dragging a tugboat anchor across them. The lawsuit was filed Thursday in Ingham County Circuit Court against VanEnkevort Tug & Barge Inc. of Escanaba, Michigan.
Two cables were damaged April 1 and released about 600 gallons (2,270 liters) of mineral oil insulation fluid into the Straits of Mackinac, which connects Lake Huron and Lake Michigan. Twin oil pipelines operated by Enbridge Inc. were dented.
The suit seeks a civil fine and reimbursement of the state's costs, plus steps to prevent a similar event in the future. VanEnkevort declined comment beyond an earlier statement acknowledging one of its vessels had been in the area the day of the incident.