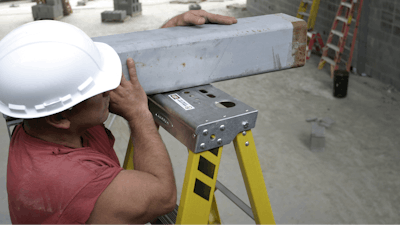 Ladders are a necessity in the industrial equipment and construction sectors. Every year more than 300 people die in ladder-related accidents, and thousands suffer disabling injuries, so it is important to take precautions before stepping on and off a ladder.
However, ladder injuries are preventable if you think and inspect the ladder before you climb. In order to encourage safety when climbing a ladder, consider the following tips:
Choose the right ladder: The first step in ladder selection is choosing the right style of ladder, from a step ladder to extension ladder—there are a variety of options. Using the wrong ladder or simply ignoring the limitations of each ladder can result in a fall or serious injury.
Determine how high you need to reach: Generally speaking, a person should first understand the height they need to reach to safely accomplish the task at hand. From step stools to extension ladders, there are safety labels limiting usage based on the specific application and use.
Check the load capacity: Ladders are designed to safely hold a specific amount of weight. The Load Capacity is defined as the maximum safe weight recommended for the ladder. A person's weight fully clothed plus any tools and materials that are carried onto the ladder must be less than the load capacity
Inspect before climbing: After choosing the correct ladder, it is important to inspect your ladder thoroughly before each use. Even if you have taken all precautions by choosing the correct ladder and height, safety can be compromised if you don't properly inspect the ladder before climbing.
Proper ladder safety awareness will help create more secure working environments for employees and general DIY consumers. These tips will not only bring attention to an active work area, but incorporate awareness to the risks associated with elevation at any height.
When it comes to ladder safety, note that ladders are not a "one-size-fits-all" proposition and each user and application will be unique. Whether it is a traditional step ladder or a new style of climbing product, users need to identify the best equipment for the job in order to stay safe.
March 2018 marks the American Ladder Institute (ALI)'s second annual National Ladder Safety Month.
The goal of this awareness month is to draw attention to the dangers of improper ladder use and how easily ladder-related injuries and death can be prevented with simple, straightforward training.