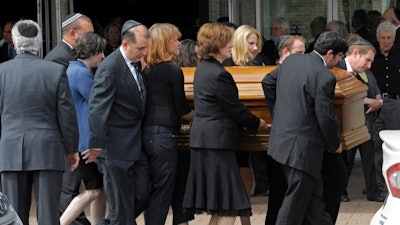 Clarence Tabb Jr./The Detroit News via AP, File
The mother of a woman killed when a speeding Amtrak train hurtled from the tracks in May 2015 told a Senate committee on Thursday that she is seething over the prospect of more delays in installing speed controls that could have prevented that wreck and dozens of others.
Technology executive Rachel Jacobs was among eight passengers killed when the Washington-to-New York train crashed in Philadelphia. Now, almost three years later, a government study has found that most U.S. passenger railroads are still woefully behind and unlikely to meet a Dec. 31 deadline to switch on the technology known as positive train control, or PTC.
"More trains have derailed, other passengers have died, and scores of others have been injured," Rachel's mother, Gilda Jacobs, wrote in a letter read into the record. "My anger is seething."
The Government Accountability Office study released Wednesday found that as many as two-thirds of the nation's 29 commuter railroads weren't on track to meet the deadline and that some of them were unlikely to make enough progress to merit a two-year extension.
The agency that operates two of the largest commuter railroads, the Long Island Rail Road and Metro-North in New York City's suburbs, said it's on an "extraordinarily aggressive and tight schedule" to meet the deadline.
So far, regulators said, no railroad has requested an extension.
PTC is designed to slow or stop trains that are going too fast, take control when an engineer is distracted or incapacitated and prevent collisions with other trains.
Amtrak has PTC in place on about 700 miles of tracks it owns in Michigan and the Northeast, but elsewhere the government-owned passenger railroad operates on track owned by freight carriers and other entities that could be at risk of missing the deadline.
Amtrak President and CEO Richard Anderson told lawmakers that the railroad is still considering suspending service on tracks that don't have PTC after the deadline. He said Amtrak would be legally prohibited from allowing other railroads, such as NJ Transit and the Massachusetts Bay Transportation Authority, to operate non-PTC trains on its tracks.
Two Amtrak trains were involved in fatal crashes on third-party tracks in Washington and South Carolina in the past three months — the latest of about 150 crashes that killed more than 300 people and that the National Transportation Safety Board said were preventable by PTC.
Sen. Richard Blumenthal, D-Conn., urged federal regulators to set up a rigorous enforcement program with stiff penalties to show railroads in danger of missing the deadline that there "will be no tolerance for delay."
Congress mandated PTC after a 2008 commuter rail crash in California killed 25 people. It extended the original Dec. 31, 2015 deadline as railroads balked at technological and other obstacles.
The Federal Railroad Administration says it's able to assess fines of $27,904 per day, but Transportation Secretary Elaine Chao said in a letter to Blumenthal and other senators that the agency was still finalizing its enforcement strategy.
The FRA has provided about $2.9 billion in grants and loans to railroads installing PTC, but Assistant Inspector General Barry DeWeese said only a few recipients have used the funds.
The railroad industry has said it is committed to PTC and will spend about $10 billion to install and implement the systems, but Sen. Gary Peters, D-Mich., is skeptical.
"They're not spending the money. They have the time. Is this a question of commitment?" Peters said. "And if there's a lack of commitment, that is a serious, serious problem when we have people dying on our railroads. The industry is going to need to answer to that."