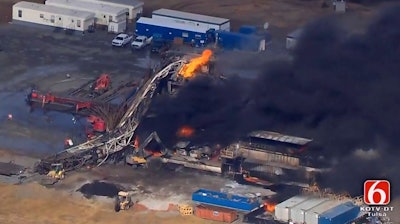 Christina Goodvoice, KOTV/NewsOn6.com via AP
QUINTON, Okla. (AP) — Gas rig workers missing after fiery explosion in Oklahoma are presumed dead, authorities said Tuesday, and the search for the men has turned to a recovery mission.
Pittsburg County Sheriff Chris Morris said it's been a difficult 24 hours for everyone involved since the Monday morning blast. His deputies and others have had the difficult task of notifying families of those lost.
"I think you can imagine, they're not doing well," Morris said during a press conference. "No law enforcement officer likes to do that. The family not knowing and feeling empty about where their loved ones are, it's a tough situation."
Morris also released the names of the five employees who are presumed dead. They include three from Oklahoma — Matt Smith of McAlester, Parker Waldridge of Crescent and Roger Cunningham from Seminole — and two from neighboring states, Josh Ray of Fort Worth, Texas; and Cody Risk of Wellington, Colorado.
"We want to learn from this," he said. "We don't want this to happen again for anybody in our industry."
Three of the workers were employed by Houston-based Patterson-UTI Energy Inc. Company president and CEO Andy Hendricks pledged a full investigation into the explosion.
The explosion at the drilling site near Quinton, about 100 miles (160 kilometers) southeast of Tulsa, sent plumes of black smoke into the air and left a derrick crumpled on the ground. For much of Monday, emergency officials were unable to get near the rig because the fire was still burning.
Emergency management officials said Monday night that the fire was extinguished. Authorities said 16 people who were on the site at the time of the blast escaped without major injuries. One person was airlifted to a hospital.
The cause of the blast is not yet known.