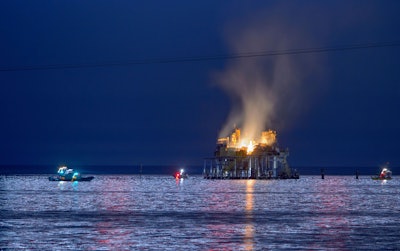 Matthew Hinton/The Advocate via AP
Editor's Note: A previous version of this story had a typo in the headline. It has been corrected.
The company that owns an oil and gas platform that exploded says a contract worker is missing, and three company employees and four contractors are injured (view photos in gallery).
Clovelly Oil Co. LLC spokesman Tim O'Leary says the platform is a collection point for oil and gas from several wells.
A statement from the New Orleans company says a natural gas well was feeding the tank at the time of the explosion, which occurred during maintenance. The statement says its three oil wells were shut in at the time, and the flow from the gas well was cut off after the explosion.
The statement says Clovelly doesn't know if any oil was released into Lake Pontchartrain.
The site of an oil and natural gas platform explosion is called Lake Pontchartrain , but it's not a freshwater lake.
It's a brackish tidal basin that is fed both by the Gulf of Mexico and by fresh water from rivers and streams in 16 Louisiana parishes and four Mississippi counties.
Its water covers 630 square miles (1630 square kilometers) but it's generally only about 10 to 15 feet (3 to 4.5 meters) deep. It's 40 miles (64 kilometers) long and 25 miles (40 kilometers) wide.
The U.S. Geological Service describes it as one of America's largest estuaries. Its waters support oysters , crabs and saltwater fish.
A Louisiana sheriff says three people remain in critical condition, with two of them in a burn unit.
At a Monday morning news conference, Jefferson Parrish Sheriff Joe Lopinto said the fire was still burning. Authorities expected the blaze to eventually burn itself out.
Lopinto says the search for the missing contract worker has been complicated by 4 foot to 5-foot (1 meter) seas and stiff winds.
Chief David Tibbets of the East Bank Consolidated Fire Department says the department's current goal is to stop oil flow and, if needed, let it burn off safely.