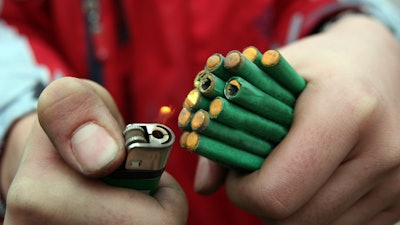 NEW DELHI -- An explosion at an unlicensed firecracker factory killed eight workers and injured 20 other people in eastern India as Hindus celebrated their most popular Diwali festival, police said Thursday.
A police officer said rescuers cleared debris of the collapsed building in a town in Balasore district in Orissa state on Thursday morning. Seven injured people have been hospitalized while the others were treated and sent home.
The area is nearly 195 kilometers (130 miles) south of Bhubaneshwar, the state capital.
Balasore district administrator Pramod Kumar Das said a huge explosion took place on Wednesday as firecrackers were being made in a house used as a factory without a legal license, according to the Press Trust of India news agency.
Authorities are investigating the cause of the blast. Accidental explosions are common at Indian firework factories as owners often ignore safety standards.
Setting off firecrackers is part of celebrations during festivals and weddings in India.
In June, another explosion at a fireworks factory killed 23 workers and injured seven others in a village in Madhya Pradesh state in central India. The explosion triggered a blaze that engulfed the factory before firefighters put it out.