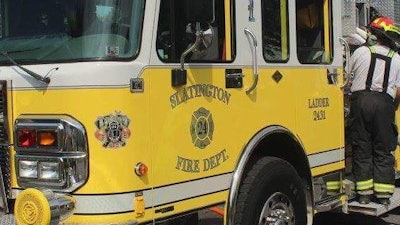 Facebook, Slatington Volunteer Fire Department
SLATINGTON, Pa. (AP) — An apparent ignition malfunction at a Pennsylvania fireworks company caused at least one explosion that badly injured a worker, the owner said Friday.
John Kemps, owner and president of Celebration Fireworks said an electric match might have worked improperly, causing the blast about 7:20 a.m. The electric match devices are attached to each firework shell and are used to ignite them.
Emergency workers said the female employee's injury is potentially life-threatening, Kemps said. The woman's name was not immediately released.
Kemps said the woman is a part-time employee whose father also works at the plant in Washington Township, near Slatington, about 70 miles northwest of Philadelphia.
"Accidents unfortunately do happen in this industry," Kemps told The (Allentown) Morning Call at the scene. "I am quite distraught because we have an employee who is injured quite badly. I also know that the public wants what we do for the holiday, and we don't want to disappoint them. But I am worried about her."
Kemps said the other workers "understand the nature of what we do, and they know it could have been them. This is the first time we've had (an explosion) since we started in 2001. I was trying to keep it to zero."
Five to 15 workers are typically at the plant each day, Kemps said. The company produces fireworks and displays for weddings, holidays, community events and other occasions in eastern Pennsylvania, Delaware and New Jersey, according to its website. The facility is licensed by the federal Bureau of Alcohol, Tobacco, Firearms and Explosives, Kemps said.
The ATF and federal Occupational Safety and Health Administration were responding to the explosion and fire. The length of their investigation — and whether the company must remain shut down during it — could impact Celebration's ability to fill Fourth of July orders, Kemps said.
A Lehigh County 911 dispatch supervisor said crews had the fire under control within an hour, but would remain on the scene indefinitely.