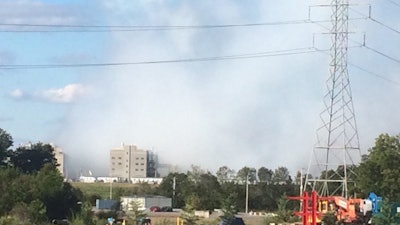 Callie Starnes, @calliestarnes, Twitter
CHARLESTON, Tenn. (AP) — A Tennessee chemical plant where an explosion occurred was previously fined almost $10,000 for three workplace safety violations since opening last year.
Records show the Wacker Polysilicon plant in Charleston was fined $3,500 in April 2016 by the Tennessee Occupational Safety and Health Administration over control of hazardous energy.
In August 2016, a $6,450 fine was issued over process safety management of highly hazardous chemicals and respiratory protection.
Authorities said Wacker's hydrogen chloride release Thursday briefly closed a busy interstate section and spurred shelter-in-place orders.
Local county schools were closed Friday.
The local sheriff's office said eight people went to the hospital for related symptoms. Wacker said one employee was in the hospital for observation.
The sheriff's office reported a hydrogen chloride reading of zero outside Wacker Thursday night.