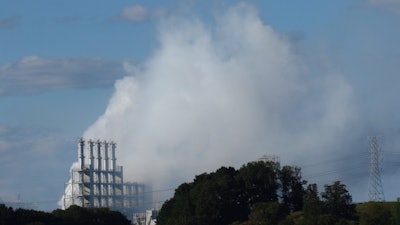 Doug Strickland, @StricklandPhoto, Twitter
CHARLESTON, Tenn. (AP) — An explosion caused by a hydrogen chemical release at a Tennessee plant Thursday briefly shut down a busy section of the interstate and spurred orders for people nearby to take shelter, emergency officials said.
A late-afternoon alert from the Bradley County Emergency Management Agency urged people to stay out of the Charleston area in southeastern Tennessee as authorities respond to the event at the Wacker Polysilicon plant.
For about an hour, emergency officials told people to shelter in place and turn off their HVAC systems. Walker Valley High School was told to shelter in place, the agency said.
Charleston is 30 miles (49 kilometers) northeast of Chattanooga.
Tennessee Highway Patrol Spokesman Lt. Bill Miller says the interstate was closed in both directions on Thursday afternoon when emergency crews responded to the explosion.
In statements to media outlets, Wacker said there was a mechanical failure at the plant with a hydrogen chemical release. The company said the equipment was shut down, and all employees, contractors and firefighters are accounted for. There are no injuries, the company said.
Wacker said the plant is temporarily closed, and the company is continuously monitoring air quality and the tests show the air quality is not harmful.
The Chattanooga Times Free Press reported that five workers at the plant last week suffered chemical burns from the release of silane, a highly flammable compressed gas.
Wacker in June began a $150 million expansion of the sprawling $2.5 billion plant.