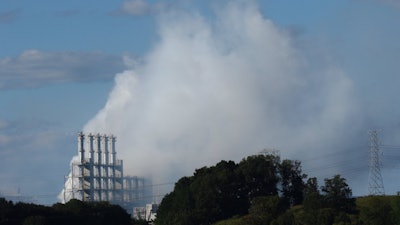 Doug Strickland, @StricklandPhoto, Twitter
Charleston, Tenn. - More than a week after an explosion at an east Tennessee chemical plant, hydrochloric acid is still leaking from the building.
An estimated six tons of chemicals remain in an unsecure site at the Wacker Polysilicon plant in Charleston, Tennessee, the site of an explosion on Sept. 7. The Times Free Press reports that workers cannot enter the building for cleanup.
The area where the explosion occurred remained unsafe Friday afternoon, and there was no way to remove the chemicals safely, said Shawn Fairbanks, director of Bradley County Fire & Rescue.
Bradley County Emergency Management Agency Director Troy Spence says small doses of the chemicals in the room escape as moisture enters the open pipes.
The plant was previously fined almost $10,000 for three workplace safety violations since opening last year.