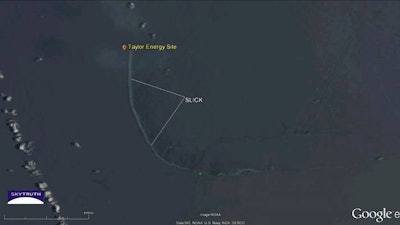 SkyTruth
NEW ORLEANS (AP) — Environmental attorneys and an energy company are going to court over the confidentiality of documents related to an ongoing oil leak from an offshore site damaged by Hurricane Ivan in 2004.
The Louisiana Environmental Action Network and others say Taylor Energy is violating a 2015 settlement agreement by fighting the release of certain documents about the leak. Environmentalists sought the documents' release under the federal Freedom of Information Act.
Taylor Energy argues that the documents include confidential information about oil spill containment technology in oil leak containment developed for Taylor.
Arguments are set Thursday in federal court.
The documents deal with Taylor Energy's response to the still-leaking site. A 2015 Associated Press investigation revealed evidence that the leak is worse than the company or the federal government had earlier reported.