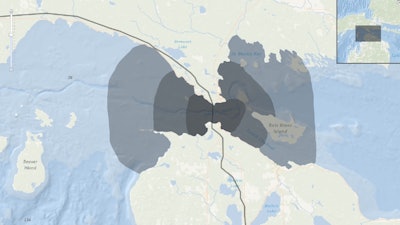 National Wildlife Federation
MACKINAW CITY, Mich. (AP) — The state of Michigan has tapped two companies to analyze the financial risk of an oil pipeline rupture in the Straits of Mackinac and evaluate any alternatives to two underwater lines in the waterway, officials said Tuesday.
Enbridge Energy, based in Calgary, Alberta, has agreed to pay $3.5 million but will not oversee the studies, state officials said. Enbridge owns the twin oil pipelines in the area where lakes Huron and Michigan converge.
They are part of Line 5, which carries nearly 23 million gallons of light crude oil and liquefied natural gas daily. It runs across Wisconsin and Michigan's Upper Peninsula before entering the Straits of Mackinac, where it divides into two lines, then continues southward to refineries at Sarnia, Ontario.
Det Norske Veritas will determine how much money would be needed to clean up a straits oil spill, according to an announcement by Michigan Attorney General Bill Schuette, the Michigan Agency for Energy and the state departments of Environmental Quality and Natural Resources. The company develops standards and provides technical expertise in the maritime and energy industries.
Dynamic Risk Assessment Systems, a consulting firm with experience in pipeline engineering, integrity management and risk analysis, will study alternatives to Line 5 in the straits area.
A technical review team reviewed seven bid proposals before recommending the two companies to the state Pipeline Safety Advisory Board.
"Our Great Lakes are the crown jewels of Michigan and we have a duty to preserve them for generations to come," Schuette said. "We are now taking the next step forward to formally define the environmental and financial risks we face."
Environmental groups and some elected officials have called for shutting down the portion of Line 5 beneath the straits, which was laid in 1953. Enbridge says the pipelines are inspected regularly and are in good condition.
"We're pleased that the board selected independent companies that understand energy infrastructure, and the important role pipelines play in delivering energy as well as protecting the environment," Enbridge spokesman Ryan Duffy said. "We expect this analysis will help build trust and confidence among Michigan residents in our continued safe and reliable operations of Line 5 in the Straits."
Environmental groups complained about a provision in the agreement between the state and Enbridge that says the company will get a copy of the report five days before it is made public. The agreement says the preview is intended only to let Enbridge see what's in the report and prepare for its release, not to let the company seek changes.
"It's extremely disappointing that the governor and attorney general are continuing to grant concessions to Enbridge that call into question whether they are truly committed to ending the threat of a catastrophic oil spill in the Great Lakes," said David Holtz, chairman of the Sierra Club's Michigan chapter.