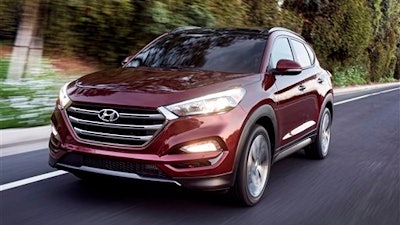 Morgan Segal/Hyundai Motor America via AP
DETROIT (AP) — Small SUVs for 2016 and 2017 did poorly during new headlight tests done by the insurance industry.
The Insurance Institute for Highway Safety said Tuesday that none of the 21 SUVs tested earned its highest ranking. The Ford Escape, Honda CR-V, Hyundai Tucson and Mazda CX-3 performed best, but more than half the SUVs tested received the lowest ranking, including the Subaru Forester and the Audi Q3.
The tests — which began earlier this year — measure the amount of usable light provided by low beams and high beams on straight and curved roads.
High-tech headlights such as high-intensity discharge lamps don't necessarily perform better.
Expect automakers to upgrade their lighting soon. Starting next year, the insurance institute won't give its coveted highest safety award to vehicles with poor headlights.