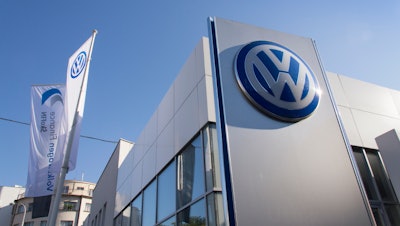 BERLIN (AP) — Five German automakers have agreed to recall a total of 630,000 diesel vehicles in Europe following an investigation into their emissions levels, officials said Friday.
Germany's transport minister, Alexander Dobrindt, identified the companies concerned as Mercedes, Opel Volkswagen and its subsidiaries Audi and Porsche.
The move followed a probe of 53 models by Germany's Federal Motor Transport Authority that was sparked by revelations last year about Volkswagen's emissions test cheating.
VW has acknowledged using special software to rig U.S. emissions tests and offered to pay substantial fines and compensations to American owners of affected diesel vehicles. On Friday, a day after agreeing the outlines of a deal with U.S. environment regulators, Volkswagen said it is to take a 16.2 billion-euro ($18.2 billion) hit in its 2015 accounts related to its diesel emissions scandal identified in the U.S. last year.
Dobrindt said none of the newly scrutinized models were found to have defeat devices of the kind used by Volkswagen, but that they displayed elevated levels of nitrogen oxide in both laboratory and real-world tests.
Some models used technology to switch off the vehicles' emissions treatment systems at certain temperatures to protect the engine, he said.
While such technology is legal, investigators found that the temperatures at which the emissions treatment systems were throttled didn't appear to be justified in all cases, so the five manufacturers agreed to voluntarily recall those vehicles. Additionally, all engine protection features would have to be declared and fully explained by manufacturers in future before their cars are approved by German authorities, Dobrindt said.
Separately, Italian automaker FIAT is being investigated following a tip from parts supplier Bosch about possible emissions irregularities, he said.