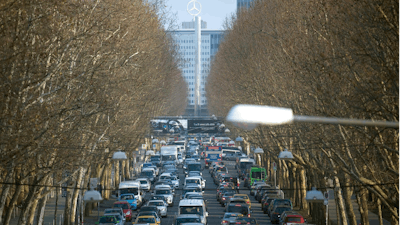 Marijan Murat/dpa via AP, file
The environmental group that sued to get German cities to ban dirty diesel cars is celebrating a court decision making such bans possible.
The head of Environmental Action Germany said Tuesday it was "a great day for clean air in Germany."
Juergen Resch noted that the Federal Administrative Court concluded European legislation and health protection were more important than national regulations.
Chancellor Angela Merkel says she hopes that measures to reduce air pollution in German cities will have an effect soon.
Merkel said the government would examine the verdict and meet with cities to discuss which measures to take.
But she said that many cities only just exceed the legal threshold and "we may be able to meet the limits very soon."
Merkel insisted that the ruling wouldn't affect all diesel car owners in the country.
Berlin's Chamber of Commerce says a ban on diesel cars in the city's downtown could cost firms in the German capital 240 million euros ($295 million) alone to replace their fleets.
Agency head Jan Eder said Tuesday's decision should increase pressure on Berlin authorities to look for other ways to improve air quality, such as incentives to buy electric cars, cleaner public buses, encouraging more cycling and "intelligent" traffic light programming.
Otherwise he says Berlin companies would be forced to invest in new fleets at great cost.
Eder says "about half of the companies would then have to restrict or even give up their businesses."