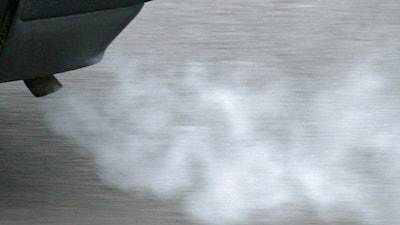 AP Photo/Jens Meyer, file
BERLIN (AP) — A German court began considering Thursday whether authorities should ban diesel cars from cities in order to lower air pollution, a move that could have drastic consequences for the country's powerful auto industry.
The Federal Administrative Court in Leipzig is hearing an appeal by two German states against lower court rulings that suggested driving bans for particularly dirty diesel cars would be effective and should be seriously considered as a means of protecting public health.
The court has said a verdict could be issued as early as later Thursday. If judges reject the appeal, dozens of cities would have a few months to enact measures to remove heavily polluting diesel vehicles from the roads — an administrative nightmare for local authorities and a heavy blow to drivers who bought cars they were promised met emissions standards.
The original court cases were brought by the group Environmental Action Germany, which accuses the government of putting automakers' interests before people's health.
"We expect to be protected, that decisions will be taken which bring down emissions to a level that provides a healthy living for us," said Axel Friedrich, a representative of the group.
German car manufacturer Volkswagen was found three years ago to have used in-car software to cheat on U.S. diesel emissions tests. The discovery resulted in large fines and costly buybacks for VW in the United States, but the German government has refrained from punishing VW, a major employer that's partly owned by the state of Lower Saxony.
Apart from hitting Volkswagen and other German carmakers, officials warn that a ban could paralyze bus companies, garbage collection services and tradespeople who rely heavily on diesel vehicles.
The European Union is also putting pressure on Germany and other countries for failing to rein in air pollution.
In a bid to avoid punitive action by the EU, German officials recently proposed a series of steps to reduce harmful emissions, including making public transport free on days when air pollution is particularly bad, and requiring taxis and car-sharing companies to use electric vehicles.
Automakers are particularly worried about another government proposal: forcing them to physically upgrade millions of vehicles that don't conform to emissions limits.
Protesters outside the Leipzig court said a diesel ban would make a positive difference in their lives.
"When I cycle, especially in winter, I have to breathe the emissions," said Manfred Niess from Stuttgart. "I avoid breathing in deeply so as not to inhale all the poison."